VIA RAIL ARTIST ON BOARD
Vancouver – Toronto: June 7 to June 11 &
Toronto – Vancouver: June 14 to June 18, 2016
BOB MENZIES
Vancouver Island based Folksinger and Songwriter Bob Menzies joins
VIA Rail's ARTIST ON BOARD program which seeks to connect musicians with the Canadian Landscape.
Passengers on "THE CANADIAN" ride the rails watching themagnificent landscape pass by while
listening to wonderful Canadian live music
On Board Performances
Each day of travel features three acoustic performances in different rail
cars of original music from Bob's four studio albums and covers of songs by great Canadian singers and songwriters.
Station Performances
On the June 7 Vancouver – Toronto journey there will also be Station Performances in

Vancouver's Pacific Station and the Jasper Heritage Railway Station.

On the June 14 return trip, there will be StationPerformances on the Toronto – Vancouver train in the historic Winnipeg
Union Station and again in the Jasper Heritage Railway Station
---

Monday, January 29, 2015

Meighan Retirement Residence, Davisville, Toronto

One hour concert  Birthday Party for the 3rd & 4th floors 
 
---

Thursday, January 1, 2015

Meighan Retirement Residence

One hour New Year's Day Celebration
 
---

Saturday, December 13, 2014

Midi Melodies, 605 Middlefield Road, Scarborough

Interview for TV show MUSICALLY YOURS with Deirdre Mallehe. Video for ONE MORE HIGHWAY was featured and we discussed the new Nashville album "CITIZENS OF NASHVILLE"
---

Wednesday, October 29, 2014

Meighan Retirement Residence, Davisville, Toronto, Ontario

One hour performance for group Birthday celebrations - 2 floors
---

Thursday, October 23, 2014

Woodgreen Seniors Centre, Riverdale, Toronto, Ontario

1:00 pm Performing for the seniors
---

Thursday, October 9, 2014

Woodgreen Community Services, Riverdale, Toronto

Seniors Centre Performance, Broadview & Danforth
 
---

Thursday, October 2, 2014

Woodgreen Community Services, Riverdale, Toronto

Seniors Centre Performance, Broadview & Danforth
---

Sunday, October 3, 2014

The Smiling Buddha, Toronto

http://www.thesmilingbuddha.ca

3 sets - 4 hours, for 20% of the gate

 
---

Saturday, October 4, 2015

Blackout Festival, The Junction, Toronto

Evening Performance at this first annual festival

http://junctioncommons.ca
---

Wednesday, September 24, 2014

Woodgreen Community Services, Riverdale, Toronto

Seniors Centre Performance, Broadview & Danforth
 
---

Thursday, September 25, 2014

Nashville Skype session with A & R rep from BMG Chrysallis 

They liked one song, The Only Thing I Fear and took it away for consideration. Declined it a few weeks later
---

Wednesday, September 17, 2015

Nashville Skype session
---


Thursday, August 28, 2014

Woodgreen Community Services, Riverdale, Toronto

Seniors Centre Performance, Broadview & Danforth
 
---

Thursday, July 10, 2014

Woodgreen Community Services, Riverdale, Toronto

Seniors Centre Performance, Broadview & Danforth
---

Saturday, June 29, 2014

Video Launch Party - June 28 - 5pm - 8pm

Rob Ross on bass, Bruce Thomson on drums
 
---


Friday, June 20, 2014

Ride For Life, The Beaches, Toronto

Playing at The Ride For Life- 5-6 pm, charity for Cancer, played the Cancer Survivors' Tent
 
---

Thursday, June 19, 2014

Woodgreen Community Services, Riverdale, Toronto

Seniors Centre Performance, Broadview & Danforth
 
---


Tuesday, June 10, 2-14

Old Nick's at Broadview & Danforth

Tuesday night jam - invited by Christan
---

Tuesday May 13, 2014

The Central, Bloor/Bathurst

Video shoot for the ONE MORE HIGHWAY Official Video
Co-produced by Robyn Menzies, Duraid Munijim and Bob Menzies
Written by Bob Menzies
Featuring the actors: Nicole Cere and Kristiaan Hansen











 
May 13, 2014

Shooting of the Official Video for ONE MORE HIGHWAY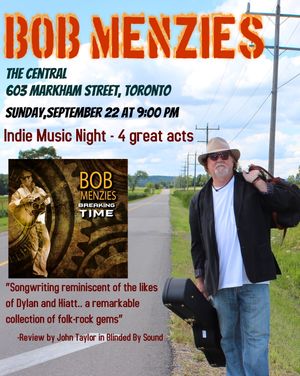 Saturday, December 14 - Private Function
Sunday, December 8 - Private Function
Saturday, December 7 - ONE MORE HIGHWAY - Album Release Party at The Central 
Thursday, November 21 - Private Function
Tuesday, November 12 - The Rockpile East
Sunday, October 20 - Internet radio interview 5:00 pm on "Musically Yours - Deirdre Mallehe" onTheHazeFM